Over the past year I have been on a long and frustrating search for a new pair of mountain hunting boots. The tried and true Zamberlans I wore for 5 years finally fell apart last season and I have, without any exaggeration, tried over 20 different pairs of boots since then in my search for a properly fitting replacement.
Given my struggle to find a boot that satisfied my needs and my professional background as a Canadian Board Certified Pedorthist I thought I'd share my experience.  I'll also provide fitting and functional insights on the boot models reviewed. A couple of them are very popular models that get a lot of attention in the mountain hunting and military community. Two of the boots never left the house due to issues with fit and two made it onto the trails for final testing.
Only one made the final cut.
This will be a general overview of the fit and functional characteristics of the boots reviewed and specifically how they worked for my feet. If you are looking for a "Buy This Boot" article, this is not it.  Professionally speaking, no two feet are the same and even our own two feet are often different. You should never, repeat, never buy a boot based purely on an online review.  I'll add to this ultimatum that when ordering online, never buy from a retailer that does not have a guaranteed, no questions asked return policy (in re-sellable condition of course).  At the end of the day, you simply do not know how a boot will fit and perform until you try it on and spend some time in them. Online reviews can help guide your selection process, especially as it pertains to characteristics like sole stiffness, durability and quality of componentry like laces, rands and sole material. But comfort is in the eye of the beholder.
This article will cover four boots: the Cabela's Meindl Perfekt Extreme Hunter, the Cabela's Meindl Alaska Hunter, the Danner Mountain Assault and the Hanwag Tatra Top GTX.  I would personally consider each of these boots to be in the same class as far as pricing and intended use are concerned, and they are all of similar construction:  leather uppers, full 360 degree rubber rands, Gore-Tex liners and Vibram outsoles. This is where the similarities cease to exist, but before we dive into the specifics of each boot and my respective thoughts it's important I cover my personal fit challenges. This will provide context relative to my final decision, and hopefully help those that are dealing with similar issues. I should also note that I tried numerous models from highly regarded brands such as Scarpa, Lowa, Zamberlan, Schnee's, La Sportiva, Arctery'x, and Mammut without success.
When it comes to boot selection I personally face two major issues. The width of my forefoot, in particular on my right side and heel slip, in particular on my left side. In short I have a wider than average forefoot and a narrow heel by comparison. My heel is not necessarily narrower than average but there exists a significant mismatch between the front half of my foot (aka the forefoot) and the back half of my foot (aka the hindfoot) in terms of width and volume requirements. My forefoot requires a D width or wider but this usually results in a heel pocket that is also wider and therefore accentuates my issues will heel slip. Hence my challenge:  finding a boot that has adequate toe box width and volume but still holds my heel in place.
My personal and professional opinion on prioritizing these conflicting fit characteristics is I would rather a sore or numb forefoot than heel slip. I can suffer through and manage a sore or moderately numb forefoot throughout the day by taking my boots off when glassing or stopping for lunch. A serious heel blister can be debilitating and even medically problematic in the deep backcountry if not dealt with properly.  In short, you can still hike, climb and sidehill with a sore or numb forefoot. You cannot do anything except sit in camp if you're forced to wear Crocs due to the egg sized, festering blister on your heel.
This is NOT medical advice, and a numb forefoot is not something to ignore BUT when push comes to shove and my hunt is on the line, I'll take the sore forefoot every time. If you do experience numbness in your forefoot on a regular basis you should seek the professional advice of an experienced bootfitter, Certified Pedorthist or Podiatrist depending on where you live. From over-the-counter (OTC) insoles to fully custom orthotics there are numerous options available to manage and treat this problem.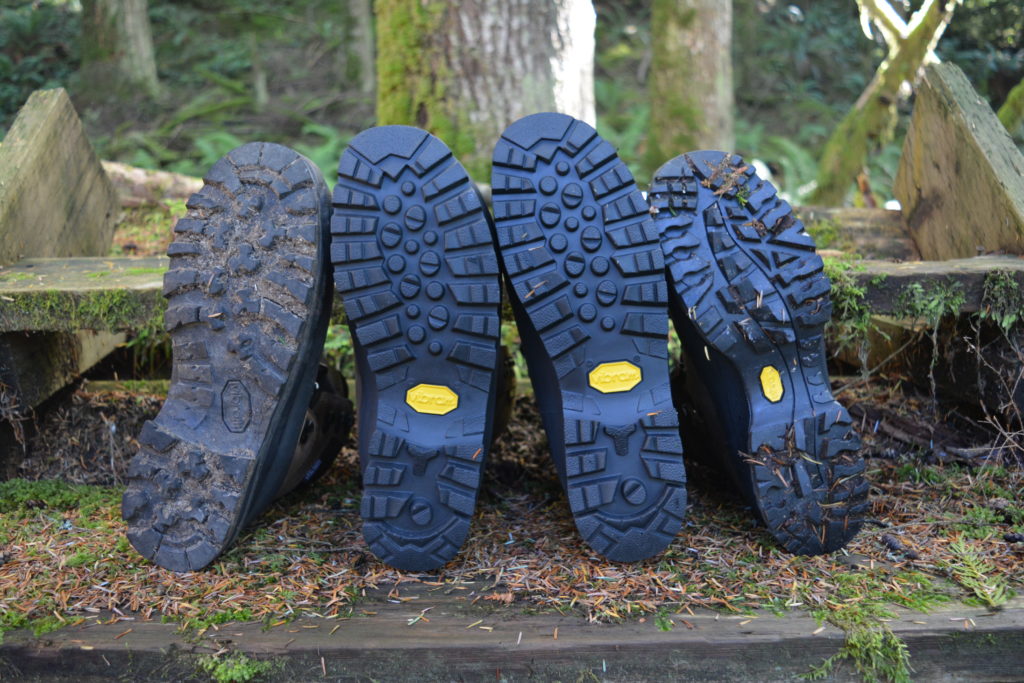 Each of the boots below is made on a different last and this is an important consideration when selecting a backcountry boot.  A "last" is the actual model or form of the human foot and ankle used in the manufacture and construction of a given boot or boot brand. Last shapes and sizes can vary significantly both between and within brands. Each last is designed for a particular heel height, toe shape, and overall foot profile.  It dictates the shape of the boot from heel to toe, the volume in the toe-box, instep and heel pocket and is one of the key determinants of fit and comfort.
[column size=one_half position=first ]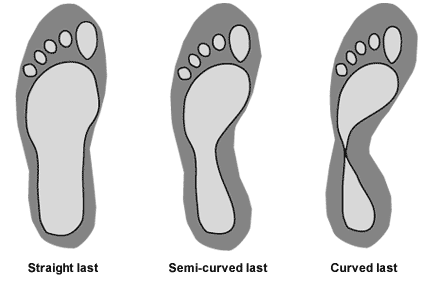 [/column] [column size=one_half position=last ]
[/column]
A general rule is flatter feet need a straight last, average arched feet can work with straight and semi-curved lasts and higher arched feet will do best with semi-curved and curved last boots (see image below). Matching the boot last to your foot shape and profile is integral but it's only the first step (bad pun I know) in finding the right boot for your needs. The lacing system, forefoot width, sole construction and uppers all play an essential role over and above the last shape. Now on to the boots.
The Perfekt Extreme Hunter is marketed as an all-around big game hunting boot and they certainly look the part. Full rands, Vibram outsoles, Gore-Tex liners, a supportive 11" height and 400 grams of insulation make this an attractive boot for late season or Northern hunts. They are available in both D and EE widths. I was initially attracted to them based on the D width and the "DIGAfix" lacing system that is supposed to "snug the boots around your insteps and heels, eliminating slippage without pinching or binding". I don't have a Cabela's within an easy driving distance so I ordered these based on their description and reviews. Cabela's has an excellent return policy so I knew I could return them if needed.
These boots would fall at the lowest end of the rigidity spectrum out of the four boots reviewed but I do not consider this a negative. As I discussed in Bulletproofing Your Feet my opinion is many hunters use boots that are far too stiff for most hunting applications. Although stiffness is very important in steep, technical terrain it can lead to an overload on the knees and quads on descents and when covering ground that is less vertical. For most "Western" hunters the Perfekt Extremes would have plenty of stiffness and support for most applications while still being very comfortable to hike in day in and day out.
The Perfekt Extremes are a curved last boot with a very nice heel to toe "ride" as I like to call it underfoot. They felt very fluid and responsive. I probably could have gone for a run in these boots comfortably.  The forefoot fit was literally "perfekt" for my right foot but alas, my left heel was literally slipping an inch or more when climbing stairs in my home.
A very effective test of heel slippage in the house is to place your forefoot on the edge of the stair and hang your heel off, like you're performing a deep calf stretch, and then lift the heel back up.  This duplicates (as close as possible indoors) the effects of toe-picking up a steep slope. We'll call this the stair test for the purpose of this article. 
The "DIGAfix" lacing system did little to nothing to mitigate this issue and despite literally giving myself rope burns on my hands trying to lace the boots down as tight as possible I could not address the heel slip.
Overall, these boots are an excellent choice for someone with a high-arched, wide foot from heel to toe that does not regularly hunt very steep or technical terrain and likes a higher weight of insulation.  Of the four boots, the Perfekt Hunters had without question the best forefoot fit for my foot.
The Alaska Hunter is one of the most well known mountain hunting boots on the market and there are no shortage of reviews available online.  They are built on a semi-curved last and would work best with average arch height feet. Designed "to handle the absolute toughest mountainous conditions" this was the stiffest boot of the four reviewed here. These boots also have the highest rand, one of the more aggressive outsoles available and 200 grams of insulation. They too come in a D and EE width. As with the Perkekt Extremes, I had to order these online.
As I mentioned above, I am not a believer in an overly stiff boot except in very specific circumstances and many reviews I read online commented on just how stiff this boot was in comparison to many other popular "mountain hunting" boots. Needless to say I was sceptical I'd like them but decided to give them a try since they're available in a D width.
Right out of the gates, these boots fit my heel better than the Perfekt Hunters but had a noticeably narrower toe-box despite supposedly being the same width. This difference in forefoot fit is due to the last differences of the boots. I immediately felt the pressure on my right foot and within a couple minutes of walking around my foot was on the high end of sore. Of course, many stiff, full-grain leather boots need time to "break-in" so I didn't rule them out immediately but it was a red flag without question. From a stiffness perspective, the Alaska's were, as promised, noticeably rigid but the boot designers did a very good job mitigating this with an adequate amount of forefoot "rocker". Meaning the sole was built with enough upwards curvature as you get closer to the front half of the foot to allow for a natural roll or "ride" from heel to toe. In short I was pleasantly surprised with the overall effect of this amount of stiffness plus rocker. I could easily imagine these boots shining on long, gruelling pack-outs in technical, and especially loose terrain where fatigue starts to affect the ability to remain stable.
The DIGAfix lacing did seem to allow for a better heel fit than the Perfekts but on the stair test my left heel was slipping enough to be problematic. Further, after spending a good fifteen minutes walking around in them, going up and down stairs and putting them through the stair test my right foot had gone from very sore to outright numb. Combining this with the heel slippage meant these boots were ruled out for me.
For the average width foot with proportional heel size, and mildly flat to average arches these boots would likely work very well. If you hunt primarily rugged, vertical terrain, this is as many others have noted, a boot to consider. I would not however give this boot a "true" D width rating so if you have always needed D width shoes or boots I would rule these out.
A few months ago Danner reached out to me and graciously offered to send a pair of their Mountain Assaults to test.  This boot was originally designed to be part of their military line but can now be found listed on their hunting sub-site as well. The Mountain Assault is a very well designed, no-frills boot appropriate for any mountain hunting application in my opinion. The most affordable boot of the four it features an 8" height, full 360 degree rand, a Vibram Tsavo outsole, Gore-Tex waterproofing, and no insulation. It is built on a straighter last, not a fully straight last but on the lower end of a semi-curved profile. I would consider this a solid contender for "one boot to rule them all" status, especially if you hunt from early to late season in primarily mountainous terrain. I have never put too much stock in insulation (my old Zamberlans had none) and personally feel that anything above 200 grams is too much unless you're buying the boot for late season use only. The Mountain Assaults are also available in D and EE widths.
My first impression of the boots was excellent.  The "ride" underfoot was exceptional and I had just the right amount of space in the forefoot. On that note, there's a fine line between adequate space in the forefoot and a sloppy fit that's unstable and leads to forefoot blisters when side-hilling or covering really uneven terrain.  These had, for my needs, the perfect blend of space and snugness to give me the responsive feel I like. Danner describes the boot as "designed to be an extension of the foot with superior forefoot and heel capture, stability and a more anatomical shape" and I would agree they achieved this outcome.
I could not identify any issues with heel slippage in the house so I took them out on the trails for a real world test. It was here unfortunately that I struggled with this boot. They continued to feel excellent underfoot with virtually zero heel slippage on steep trails, no forefoot soreness or numbness and a nice blend of support, protection and responsiveness. The uppers from the ankles up the lower legs however dug into my ankle and shins in a way that was quite uncomfortable. I initially chalked this up to simply needing a longer break-in period but I've now had the boots for a few months and unfortunately can't wear them longer than 30-45 minutes without needing to take them off. After discussing this with Danner, I am quite certain this is a unique to me issue as they have never received this feedback from anyone else. I truly believe this is an example of one of those weird circumstances where the boot just doesn't work for my anatomy despite literally checking every other box. I was very disappointed with this outcome as the Mountain Assaults excelled in every other way.
Given Danner's excellent return policy and the unbeatable price point on these boots I would highly recommend trying them. If you're facing similar fit issues to mine and looking for a true do-all mountain boot that doesn't sacrifice ground feel and responsiveness this boot should be on your list. If it weren't for my personal issue with the uppers these would be my new boots.
For most of you Hanwag will need no introduction. They have long been regarded as one of the premiere boot brands in the mountain hunting and military community and for good reason. When it comes to footwear, foot science, and attention to detail the Germans have always been in a class of their own. It had been years since I'd tried a pair of Hanwags and at the time the available models did not work with my fitting requirements. For most of this epic search I had in fact dismissed Hanwag as an option.  In the past I'd tried two of their very popular and highly regarded models, the Trapper and the Alaska. Neither of these boots worked for my feet, and after trying them again recently this remains the case. The Alaska is too narrow for my right forefoot and the Trapper allows too much heel slip on my left.
The Tatra Top GTX however is a different story. Far less popular than the Trapper or Alaska models, they should nonetheless be on every mountain hunter's radar. Out of the four models I've reviewed these are the most expensive but it shows in the construction. They come in a 10" height, with full 360 degree rubber rands, Vibram outsoles designed by and exclusive to Hanwag, Gore-Tex liners and by far the most advanced and effective lacing system I've come across. They are built on a semi-curved last but on the lower end of the semi-curved spectrum. The Tatra Tops (not to be confused with the basic Tatras) are also the lightest boots in this review thanks to a stiffening shank built into the midsole. They come in regular and wide widths.
I tried both and although the wide model fit my forefoot a little better I experienced some mild heel slippage on the left. The regular width model truly hugged my heels and felt incredibly secure on my ankle and hindfoot. The lacing system is the primary reason for this. Designed with a ball bearing lacing system in the lower portion of the boot it was unbelievably easy to cinch the laces down to the tension and fit I needed to lock my foot and heel in place without any binding or pinching whatsoever. The leather uppers were also the softest and therefore the most comfortable boots out of the box. For some of you, this might be a concern in regards to stability but given the customization possible with their lacing system I was able to maintain a level of ankle support that surpassed the other boots by a wide margin.
The sole stiffness was on the high side for my tastes, not as stiff as the Cabela's Meindl Alaska Hunter but stiffer than the other three boots, but the designers at Hanwag truly nailed the forefoot rocker on this boot. The Tatra Tops have a near effortless ride from heel to toe. My heels were secure, the forefoot fit was snug but wide enough and the uppers were unbelievably comfortable right out of the box. I'd finally found a boot that seemed to check all the boxes but they needed to be tested on the trails.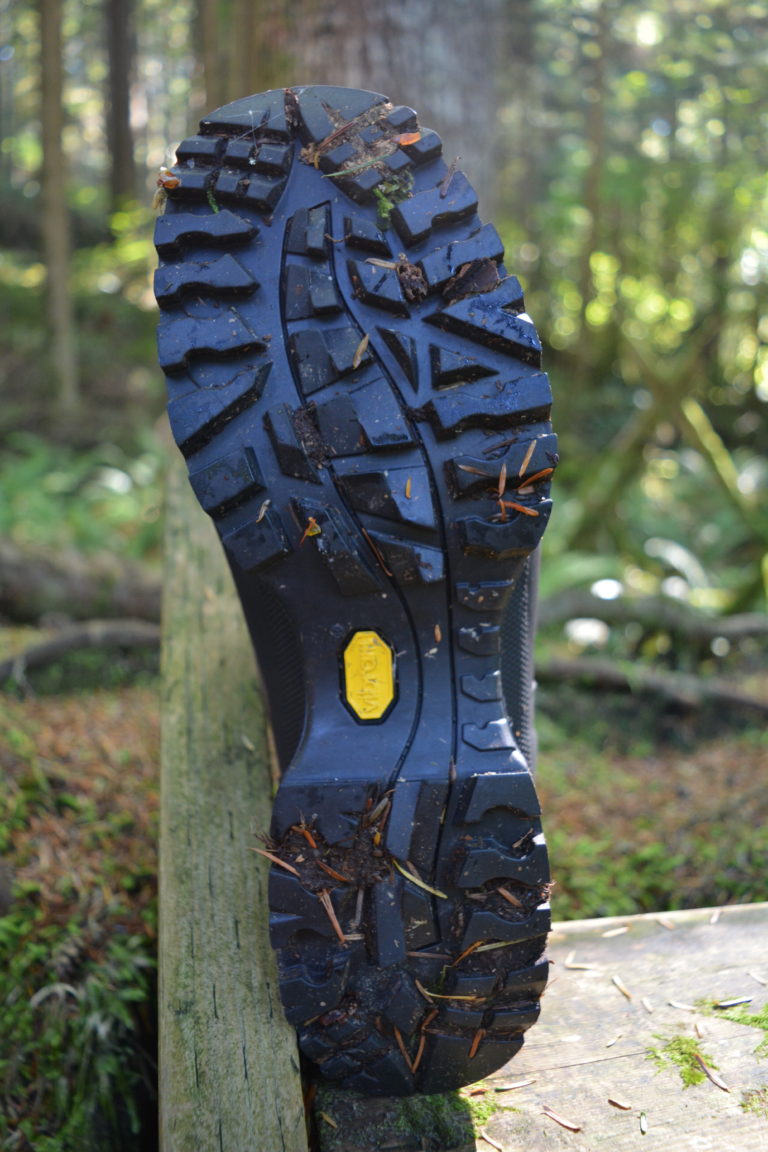 Whether on steep sections or sidehilling the boots continued to shine, no heel slippage on my left with the perfect blend of forefoot stiffness and ground feel. When covering less vertical terrain the ride was unbelievably fluid and responsive. I did experience some mild soreness on my right forefoot but this eased off substantially after a few more trail tests. The leather uppers are truly out-of-the-box comfortable and feel like they've been worn years.
In short, my search was over and the Tatra Top GTXs made the final cut.
Conclusions
Out of the many boot-fitting problems one can face, this forefoot to hindfoot mismatch is one of the toughest to solve so I hope this article was helpful for those of you that have battled similar issues. Further, I cannot at this point speak to the durability of the boots or how they handle an extended backpack mountain hunt. I will be putting them through their paces on a Stone's Sheep hunt in Northern BC this month so look for a full report on the Field Notes blog in the coming months.
In my opinion, the number one factor that solved my heel slip issue was the Hanwag ball bearing lacing system combined with the last of the Tatra Tops. If you deal with heel slippage, you have to check out the Hanwag line. None of the other boots I've tried over the past year came close to matching the effectiveness of their lacing system. This component combined with their premium quality leather uppers and incredibly well designed sole creates a boot that deserves the higher price Hanwag demands.
That being said, if weren't for my personal issue with the Danners, I likely never would have bothered trying the Hanwags. Given the price point the Mountain Assaults are a top contender. I will continue to wear them for shorter hikes to see if I can soften the uppers sufficiently to be comfortable for extended periods. I haven't given up on them just yet.
If you have a proportional foot, many of the boots I reviewed and likely many of the boots I tried but didn't even bother taking home could work for you. As I said at the beginning, fit and comfort boils down to YOU and the needs of your feet. Further, the predominant terrain and weather conditions within which you'll be using your boots have to be factored in. A great fitting boot that is too stiff or too flexible for your needs is not going to be comfortable in the long run. In my opinion, when spending $300 – $500 on a pair of boots they should handle most if not all of your hunting applications outside of extreme cold or wet conditions.
In my opinion your feet are the single most important piece of "equipment" you own as a mountain hunter. The bush plane, jetboat, raft, canoe, or horse will only get you so far. Whether an archer or rifle hunter, your weapon won't get you up the mountain and back down. Take the time to test every boot you can, even if it means ordering them online and returning them. It's worth the hassle. Give your feet and your boots the same attention you do your arrow or rifle groups. Those groups won't mean squat if you're stuck in camp due to poor fitting boots.
---
PRO INSIGHT IS BROUGHT TO YOU BY STONE GLACIER PACKS