Any serious backcountry hunter knows that the gear we haul into the mountains is expensive, but few items are as costly as our glass. It's easy to rack up a bill well into five figures when you look at serious spotting scopes and binos, and there's a wide price range out there that can sometimes leave us scratching our heads.  
When it comes to glass, "you get what you pay for" is the most common phrase thrown around. The top-tier European optics stand out in this case, though the argument can be made that the average hunter may never see the returns on choosing a Swarovski optic over something in the market's mid-range. The demands of guiding – sheep in particular – dictate that I have the best quality optics the market offers, and my Swaro's have yet to let me down in that respect. 
While we can acknowledge that you get what you pay for with optics, there are situations – and budgets – that don't always call for the most expensive glass on the market. Whether it is a spotting scope that is only used once or twice a year or an additional pair of binoculars outside of your "everyday" model, there's a case to be made for exploring the mid-range options in the market.
Last year when Maven Optics reached out to BTK to see if we were interested in trying one of their binos, I jumped at the chance. Like most of you, I am a gear nerd, and I was curious to try something in their line – I've handled and briefly looked through a few different Maven binos & spotters that my clients have brought in over the years – and particularly so about using something with more reach than the 10x binos I usually carry. 
Maven's C.4 15×56
The optics in question were the new Maven C.4 15×56 model, described by Maven as their "recommended mid-level binocular for hunting and birding where high magnification is required for better observing detail at a distance. Designed for wide-open terrain and delineating detail from shadows on those big mountain hunts." 
The C.4 is the most powerful optic in the Maven C Series line-up with both 15×56 and 18x offerings. With a 56mm objective and weighing in at 45.1 oz, it isn't an optic that you're going to do a lot of hand-held glassing with, but that's not where 15x binoculars shine. Once you pass the 12x threshold with binos, and perhaps even the 10x for some people, you will be looking to have your glass fixed to a tripod. Maven has thought that out, and the C.4 binos have a threaded stud adapter in the front of the bridge with a plastic thread cap should you choose not to mount them to a tripod via post.
Maven's C.4 Line of binoculars uses their extra low dispersion ED glass, a dielectric coated Schmidt-Pechan prism, and scratch and oil-resistant coatings on their lenses. Unlike their B series lineup of optics, the C.4 15×56 has a polymer housing and is manufactured in China. This hasn't proven to have any adverse effect during my use, though it likely makes for a less durable binocular across its lifetime. 
For the purpose of this review, I am not going to deep dive into the technical specs, coatings, etc of the C.4 – I am not an optics specialist or a master of the intricacies of lenses. However, I spend an incredible amount of time parked behind glass every year and have for nearly the last decade. A hunting guide in the mountains lives behind their glass, and while I lack technical showroom knowledge I make up for it by understanding how a binocular functions in the field, and if it's something I will continue to pack around. Spoiler, these make the cut. 
Test Locations & Hunt: 
Tiburon Island, Mexico – Desert Bighorn Sheep
NW Coast, British Columbia – Mountain Goat
Vancouver Island, British Columbia – Black Bear
To get a feel for how a binocular performs in the field, you need to use it in the field. Not for a day or two in the park looking at ducks, or at the range, but instead, get a feel for how you use them across a couple weeks of hunting daily. In this case, I have used them on three different hunts – a Northern BC winter mountain goat hunt, a south coast BC black bear hunt, and on Tiburon Island for desert sheep. Loosely speaking this was a temperature variance of about 50º Celcius / 95º Fahrenheit, with a little rain and snow mixed in the middle. For the hunts in BC, the C.4s were mounted to my tripod with an Outdoorsmans Bino Adapter and stud, and I used an Aziak Equipment Bino Clamp in Mexico – for what it's worth the Aziak system is the most versatile, hassle-free tripod adapter for binos, and I use it on my 10×42 as well.
On all three hunts, I was able to compare the glass of the Maven C.4's against top-tier glass – Zeiss Victory RF 10×42, Swarovski EL Range 10×42, Leica Geovid 10×42 and Swarovski SLC 15×56. While they clearly aren't on the same level, the Maven C.4 15×56 held up well against its competition, showing great clarity, color, and detail. I never found myself having eye fatigue behind them as you sometimes do with mid-range binos, and the ergonomics were comfortable. 
The Maven C.4 15×56 does have a noticeable smaller sweet spot in its glass, both in edge-to-edge clarity & eye box. This was most evident when transitioning between the Maven & European brands, though I wouldn't expect a thousand-dollar binocular to perform as well those 4-5 times its price. To my, and my hunting partner's eyes, it was hard to make out much of a difference in the center of the FOV. I found the majority of the optic center to be clear regardless of distance and conditions, and they didn't show heat waves any worse than the other binos we had on hand.
The C.4 has a standard center of the bridge focus wheel, which operated smoothly throughout its range, and a single diopter adjustment that doesn't lock. I've admittedly become used to the dual locking diopter adjustment of my Swarovski's, but again the Swaro is nearly 5x the price. I did find the diopter adjustment dial was prone to movement, both when used in a bino harness and when I kept them in the microfiber bag in the top lid of my pack. This is easily re-adjusted, and generally, you aren't in such a hurry to put a 15x bino into use that this will matter to your hunt.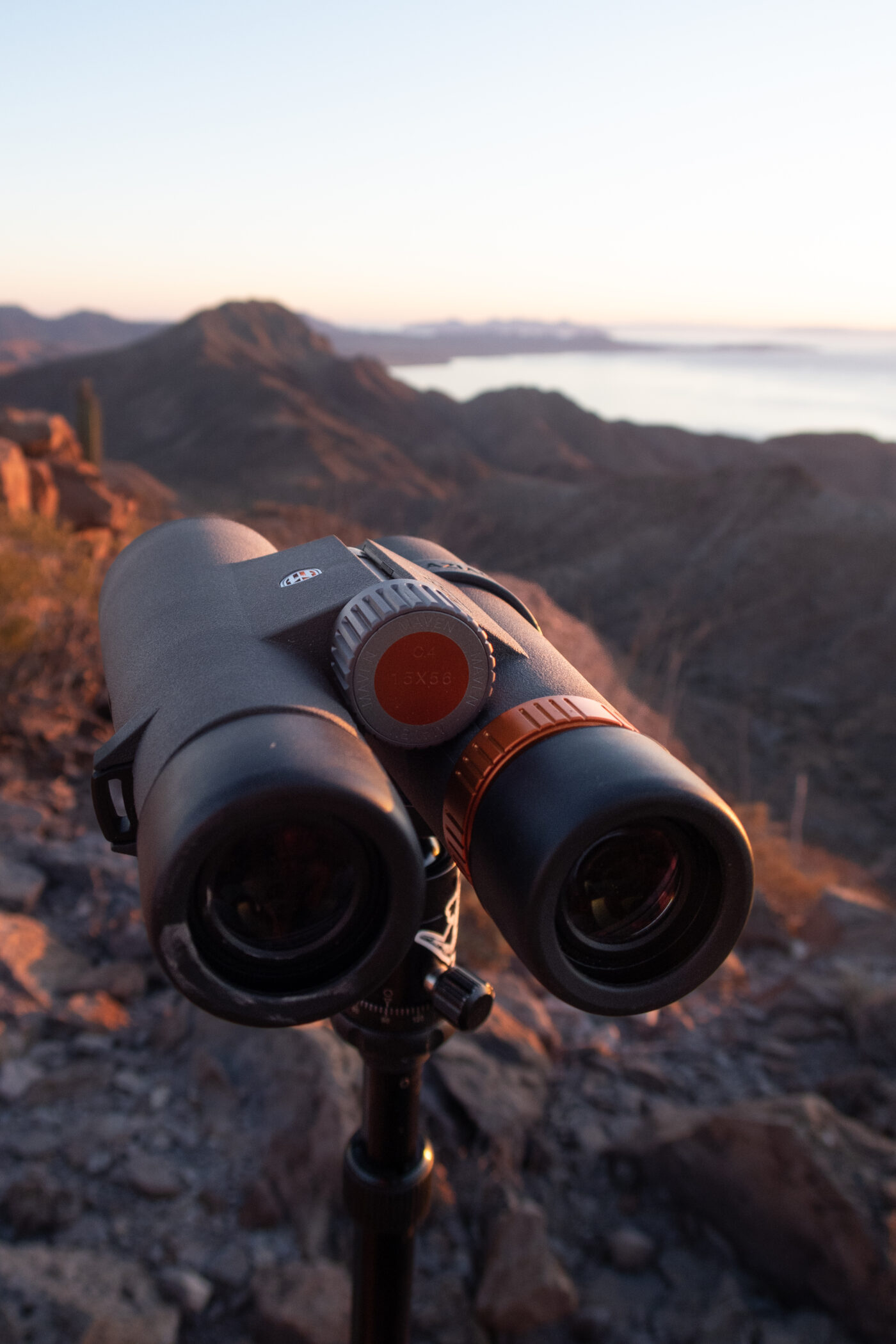 It also comes with front a rear rubber lens covers that most binoculars have, which I generally find to be more of a nuisance than a help, and don't use in the field. The eyecups are standard fare, and function as they should, with several position settings for desired eye relief.
Stated Features
-Mid-Range Model
-Size: 7.75 in 
-Durable, Well-Balanced, and Lightweight Polymer Frame
-Extra-Low Dispersion ED Glass
-Fully Multi-Coated Lenses
-Phase Correction Coating 
-Exceptionally Clear, Bright, High Contrast Image
-Excellent Color Fidelity
-Waterproof and Fog Proof
-Tripod Adaptable
-Lifetime Warranty
-Direct to Consumer / No Retail Markup
MSRP:
$700 USD /$950 CAD
Weight:
45.1 oz/ 2.8lbs
Who is it for?
Maven C.4 15×56 is for the budget-conscious hunter that needs bigger glass for bigger country. They do a wonderful job at filling the void between a 10x binocular and a spotting scope, for the hunter that doesn't often need an intermediate optic but wants the option without splurging on top-end glass. For the hunter that doesn't feel they need a spotting scope, but wants a tripod-mounted, higher power option than the standard 10x this is also a worthy optic. I haven't used them, but I suspect the C.4 18×56 may provide a better solution for the latter.
Bottom Line
Maven's C.4 15×56 proves to be a strong contender for a "doesn't break the bank" tripod-mounted binocular. The glass – while not on the same playing field as the top European brands – does not disappoint, and frankly is the best in its price range that I have come across. Maven's "direct to consumer" approach is likely a key factor in this, as you get more for your money than standard over-the-counter offerings. The drawbacks I found were small and largely inconsequential to in-field use. Those looking for a dedicated long-range binocular and willing to pay more may consider the Maven B.5 15×56 or 18×56 – their premium offering at 2x the price. For the rest of us looking to extend the range of our binoculars, this is a worthy choice. I know it will find a place in my pack for the coming guide season.
Editor's Note: As I'm sure some are wondering, neither myself nor BTK has any ties to Maven. They didn't ask us to review them or provide any sort of incentive, apart from shipping a bino for us to try. We feel it is important to state this, as there exists many a review in this space that is incentivized in some form by the manufacturer.