It was a toss-up between the Northwest Territories (NWT) and the Yukon and I went with the Yukon. That was back in 2006, when I was trying to decide where I would go for my first Dall sheep hunt. The decision was a wise one. I came home with a 41 inch ram and the lifelong affliction known as Sheep Fever. Although my goal of harvesting a 40 plus inch ram had been fulfilled, I have since dreamt of travelling to the NWT to hunt one of the white sheep of the Mackenzie Mountains.
By late 2013 I found myself seriously contemplating a hunt for another Dall. Seven years and three sheep hunts up north had come and gone with me taking the monster Dall, a fine Stone ram and a dream Rocky Mountain Bighorn. Before I booked the hunt I thought about my status of needing "one more for four" in my quest for the Four North American Wild Sheep, also known as a Grand Slam. That one more would have to be a Desert Bighorn. As a Nevada resident, I was sitting comfortably on 13 bonus points for that species, so the decision was an easy one. I emailed the outfitter of the concession in the NWT I had researched in 2006 to see if there were any openings. The outfit had changed hands since then, but had kept producing massive rams and repeat clients. I was ecstatic to hear from Tavis Molnar of Arctic Red River Outfitters (ARRO) that there was one spot available for the early hunt. With the deposit in the mail the following week I couldn't believe it was real. I was finally going to Arctic Red.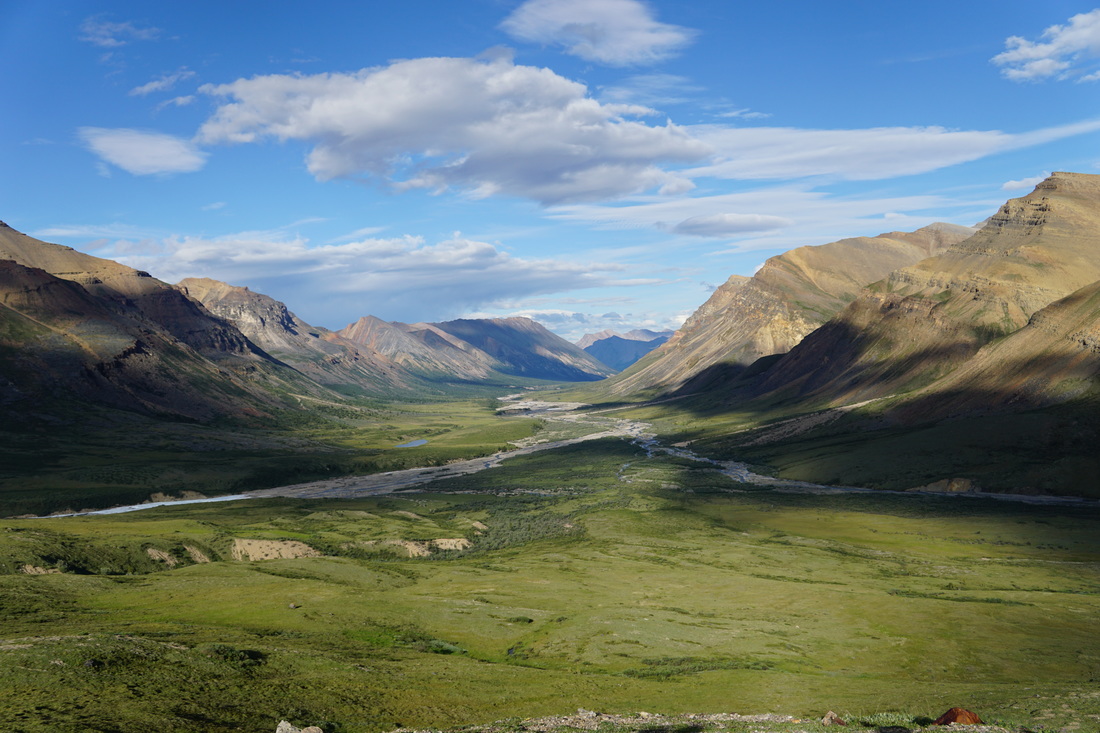 Photo Credit Jamie Jurad
2014 came fast and I attended the Sheep Show in Reno, as I do every year. Over the weekend, I had many conversations and drinks with the guys from Arctic Red. Those conversations, as well as excitement from friends Mark Seacat, Adam and Cam Foss, and Steven Drake, all of whom had been to ARRO before, had me pumped.
With the convention behind me, and about four months until departure, we began the process of getting into sheep shape.
Our workout schedule would be the usual one, build muscle and strength, followed by several weeks of hiking with heavy packs. My wife Jamie and I started off strong with the training, but about two weeks in, I injured my left quadriceps muscle trying to get in that "one last rep" of heavy squats. After a few calls to a couple of doctor buddies, I was taking it easy to heal the tear. I slowly began to ramp up the workouts and weight in the pack, taking care to stretch as the doctors had advised. A couple of weeks later the muscle was fully recovered with only slight soreness. We finished the training strong and the departure date was finally upon us.
The night before we left we went over all of the gear that would be needed for the 10 day hunt one last time. Everything was accounted for and packed and we were off to Reno to get a room to try and catch a little sleep before a very early departure.
The itinerary was insane. Six planes to get from Nevada to sheep country. At our stop in Edmonton we met up with the Seacat crew. They were going back to Arctic Red to finish up on a project that had been in the works for several years. The next couple of plane rides were filled with coffee, jokes and catching up with friends. We reached Norman Wells and sorted our gear to board the Twin Otter for the final flight into base camp. It was on this flight that I saw the Mackenzie Mountains for the first time. I couldn't wait to be deep in those mountains glassing for sheep.
The Otter hit the ground and we quickly unpacked our gear, then helped Tavis and crew load some cargo that was going back to Norman Wells. From the strip we had a short walk into camp, where we were met with smiles, food and drinks. Everyone made us feel very welcome and at home. We admired the older log cabins, as well as some very up-to-date ones.
Just as we were getting settled, we were informed that Jamie and I were to be flown to our starting point immediately, instead of the following morning. Our guides would be waiting for us at a cabin in a high saddle. We geared up and wished Mark, Adam and the boys good luck and hiked up to the small lake above camp where the float plane was docked. We threw our gear on the plane, belted ourselves in and, once again, we were in the air.

Photo Credit Jamie Jurad
The flight lasted about an hour. We had a little wind and some bumpy air, but our pilot handled the turbulence with ease. He flies year round and is an exceptional pilot. The view of the landscape was unbelievable from the air. The mountains looked impossible to navigate by foot and completely vertical from the valley floor to the peaks. I knew we had our work cut out for us. Nothing would be easy on this hunt and seeing this type of terrain reminded me why we train as hard as we do: to be able to hunt anywhere on this planet and be successful.
Rain began to streak the windshield of the plane and I thought to myself, "Welcome back to sheep country." We flew over a few more jagged peaks and suddenly our pilot banked the plane, dropping us into a beautiful valley. I was in awe as we approached an aqua coloured lake in a high saddle. He touched down smoothly and we taxied up to the shore. Our guides, Kent Robertson and Seth Duncan, helped us unload our gear. Our pilot wished us luck and jumped back into the plane and took off for base camp.
We wasted no time getting acquainted with our guides and immediately started planning the hunt strategy. We grabbed a quick snack and decided to take a hike to the other side of the lake to look for sheep. We glassed the slopes of a long valley, but spotted no rams. We ate dinner back at the cabin and decided to go the other direction in the morning. It was nice to have a full day to scout before the hunt. The scouting day was a long one, about 10 miles round trip. We spotted a ram that appeared to be a shooter, but he didn't give us a great look. He'd be there if we needed him later.
The following day was the opener and we decided to pack enough gear for 10 days and start our journey. We made our way down the valley, stopping often to glass the green slopes and dark shale for white rams. Huge drainages poured into the sides of the glacier cut valley. Sheep seemed to be everywhere. Several rams were in the eight to nine year old range and would have been shooters in other concessions, but not here. Tavis manages for older rams, 10 years and older. A couple of them really looked good, but we could only count 8-9 rings. It's tough to pass a sheep of that caliber but it is for the good of the concession and the species. A couple of days passed with more of the same: great looking eight to nine year-olds and many lambs and ewes.

Photo Credit Jamie Jurad
As they often do on a sheep hunt, the days seemed to meld into one another. Each day we pounded out approximately 10 miles and glassed for hours. The sun would set early in the morning, but darkness would never fall. Sometimes we would glass until 11 p.m., or even midnight, having to force ourselves to grab a quick Mountain House and retire to our sleeping bags. We never really got tired, as long as we were moving or glassing. You don't realize what you are capable of until you step outside of your normal routine and environment.
One morning we spotted what appeared to be an old and very long horned ram in a high pass. The decision was made to get a closer look. We dropped all our gear, except the essentials, and blazed up the mountain to get the scope on what I thought would be my ram. We crawled the final 20 yards and Kent set up his scope. He studied the ram and told me to take a look. This ram was pushing 40 inches and I wanted him. I told Kent what I thought and he said okay, but he hadn't confirmed his age. To my disappointment the ram was only 8. We snapped some photos and got a few more looks through the scope and headed down.
Rain began to pour from the sky and, at that moment, I had one of the lows on the emotional roller coaster that is sheep hunting. With exhausted legs, we reached the bottom, and the rest of our gear, and packed it up for a three to four mile hike to a camp spot that Kent said he despised because it was full of mosquitoes and kind of marshy.
"Great, can't wait," I said. We laughed and pushed onward.
About halfway to mosquito camp we picked up a little friend. A red fox started following us quite closely. His lack of fear made it obvious that he had never seen a human before. He came within six feet of us and was rolling in the grass like a puppy vying for attention. We got several pictures of the little guy and he eventually took off after some ptarmigan. It is the little things like that that make me smile and lift my spirits when I'm tired and sore. That fox reminded me what's so special about places like the NWT. It is untouched and it hasn't been defiled by man and his industry.

Photo Credit Jamie Jurad
Mosquito camp wasn't that bad. I actually rested quite well there. I awoke with a refreshed body and attitude. Amazing what eight hours of sleep and a Mountain House spiked with ramen noodles will do for you. After breakfast and coffee, we were once again pounding the ground and glassing the slopes, holding strong to the commitment of finding an old ram.
A few miles down the trail we glassed some sheep on a mountain in the distance. One looked promising, but several miles separated us. The temperature was rising as we sloshed through marshy grassland and mosquito infested willows. The humidity was getting unbearable. Thankfully a slight breeze cooled and dried the air. We finally made it to the base of the mountain and immediately started glassing. In no time, we began picking sheep out of the cliffs. This mountain was basically one giant shale pile with cliffs tearing through the surface. The cliffs were providing just enough shade for the sheep to escape the sun's rays. We spotted a large ram and counted 9 rings. I was seriously beginning to question the whole 10 year old or better plan.
Kent smiled and said, "Check out this old ram."
Looking through his scope I saw a heavy, low slung old warrior. From that moment I knew we would be making a play for this sheep. We had trouble counting his rings due to heat waves, but Kent estimated the ram to be between 10 and 12 years old, Seth and I concurred. He was lying on a small bench which had a spring coming out of the rocks above him and a mineral lick on one wall. We watched as the old ram would drink and lick and then scratch his back on the walls and finally bed down right in the water. The spring was raining down on him from the rocks above. It was quite a sight to see him use this overhang as a source of water, minerals and to keep himself cool. The ram fell asleep and we took the opportunity to move through the trees to try to gain some elevation into a suitable position to take a shot. With hoods up and in stealth mode we made our move.
Kent and I stalked to within 310 yards of the ram while Jamie and Seth stayed back to keep an eye on the entire mountain. At this point the ram had moved out of his bed and ended up in the cliffs with only his horns visible to us. This gave me lots time to find a solid rest to wait for an opportunity to shoot. The range finder read 300 yards with a 35 degree incline. I dialed my scope accordingly and waited.

Photo Credit Jamie Jurad
Almost 30 minutes had passed and I began to get uncomfortable in the position I was in. I was lying on the moss with my rifle resting on a low branch of a spruce tree, looking steeply up at the mountain. Just as I was about to reposition, Kent told me to get ready. The ram was about to move. A smaller ram and a lamb were moving toward the old ram and it was making him nervous. I found him in my scope as he stood, and with a brief glance at his headgear I confirmed he was my ram. I slowly squeezed the trigger and heard a loud crack.
To my surprise Kent calmly said, "You missed."
I honestly thought that he was joking and looked at him to see if he was laughing. He wasn't. I immediately cycled another round and found the ram in my scope once again. I asked Kent where I hit and he said right over him. I knew I hadn't dialed the scope correctly, so instead of adjusting the scope I aimed for the center of the lower third of the ram and squeezed again. This time the sound was different. It was that familiar wallop of a direct hit on an animal.
I looked up and saw the ram cartwheeling violently end over end, slamming into the cliffs and shale on his way down the mountain. That moment seemed to last forever, with me praying that no damage was happening to the horns. He finally came to rest in the middle of an almost vertical shale slide. I inspected him through my scope and saw that everything was intact. I still only saw the slight brooming on his right horn as before. I looked at Kent who was wearing a huge smile, and I began to laugh. That is the point in the hunt where you have the adrenaline high of being successful, but at the same time a pit in your stomach because it is over.

Photo Credit Jamie Jurad
Jamie and Seth hiked up to us and, after some hugs and handshakes, we hiked up the steep shale to my ram. I did what I always do when I reached him, I looked the ram over and simply enjoyed every detail about him. Everything about this old ram was rugged, from his battered horns to the scars on his face and hooves. He was a true warrior and survivor, 10 years old with all of the characteristics that I had envisioned. I looked at the others and thanked them all, knowing that this hunt was just as much their success as it was mine. We pulled it off and, as a team, we made it happen. Now all there was to do was admire him, get as many photos as possible and get him broken down and into the packs. But, most of all we knew we needed to be thankful, and respect him.
After a few hundred photos, we full body caped him and boned out the meat. We then got a radio call from Tavis saying that he was a few miles out in his super cub and was going to give us an air drop. Kent told him our location and in no time he came buzzing around the mountain and found where we had left most of our gear. He dropped 2 boxes containing homemade lasagna, cookies, pie and other treats. Talk about service.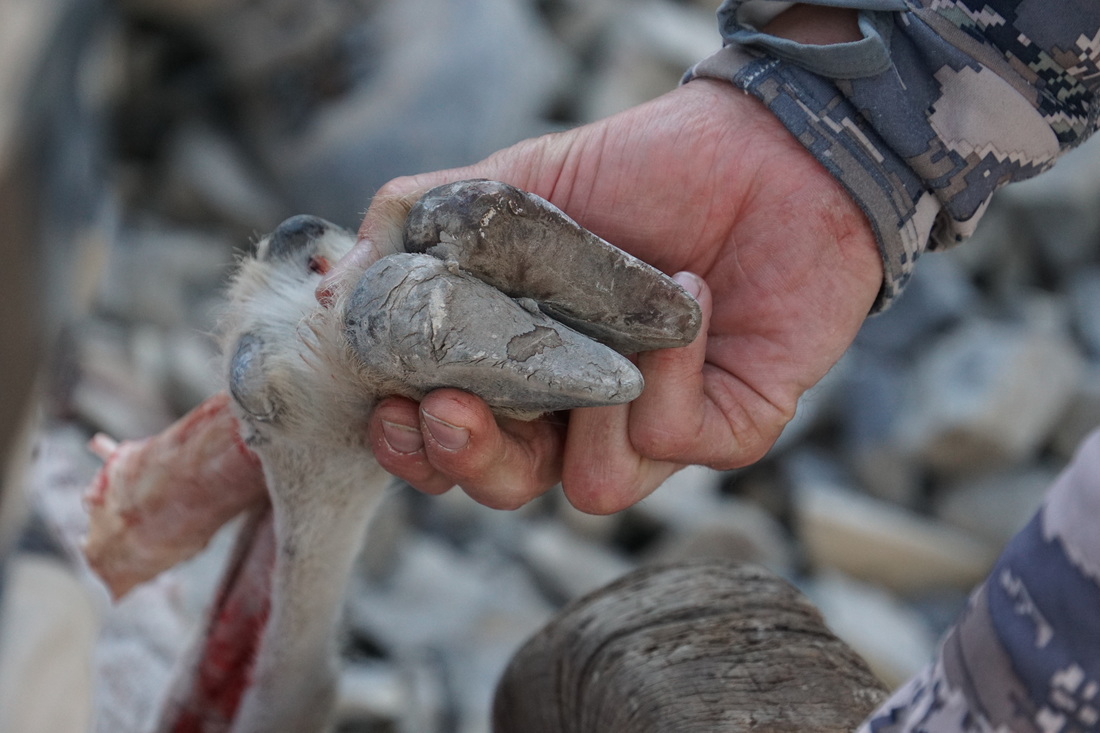 Photo Credit Jamie Jurad
It was nearly 1 a.m. before we started down the mountain. When we reached the bottom, we couldn't find a dry spot in the marshy lowland to make camp. We knew there was a very nice gravel bar next to the river a few miles away, so we grabbed the rest of our gear, the food from Tavis and headed out. After an hour or so of non-stop grinding, we reached our camp spot for the night. Packs were unloaded and a fire was made. Dinner would be sheep tenderloin, lasagna, and pie instead of Mountain House that night. We roasted the meat over an open fire on willow sticks, with just a touch of steak seasoning. It was honestly the best meat I have ever eaten. We gorged ourselves and then retired to our bags for 10 hours of uninterrupted sleep.
The next day it rained continually, so we stayed put. We fleshed the hide and trimmed the meat and ate as much as we could for lunch and dinner. The weather broke the following day, so we decided to hike back to the cabin. I thought it would be about a four hour hike, but it took us most of the day. The trek seemed to pass quickly, though, with all of us telling jokes and reliving this hunt, as well as others. We were all happy to reach the cabin and be able to sleep in bunks and consume large amounts of food and coffee.
We heard the float plane rumbling up the valley the next morning. This was our ride back to base camp. The ram and I were the first to be flown back to camp, followed by Jamie and finally the guides. The couple of days at base camp were a great time of talking with other hunters, guides and crew, and more wonderful food and coffee. There may have been a few cocktails in the evenings as well!
The Twin Otter arrived at camp to pick us up and drop off the next group of hunters. I noticed how clean their gear was and how nice their clothes and boots looked, just as ours had 12 days before. I wondered if they were seasoned sheep hunters, or guys who had no idea of what they were about to experience. They had that eager look in their eyes, the look of excitement and anticipation for the adventure.
As we boarded the plane with muddy boots and bloody gear I'm sure they noticed the calm Zen-like look of satisfaction and victory that only the successful hunter knows.