There are few pieces of equipment as intertwined with the history of Northern wilderness adventure and travel as the snowshoe. For centuries they have allowed humans to travel through winter conditions that would otherwise have been literally impassable and almost certainly fatal to attempt. Some anthropologists even believe that the first humans to cross the Bering Land Bridge used a rudimentary version of the snowshoe to make the crossing from Asia to North America. The very history of Canada in particular is written on the traplines and trails traveled by snowshoe from East to West.
Hunters and trappers have long depended on snowshoes to access the wildest reaches of the Northern Hemisphere and as the snows begin to accumulate in the mountains across the West many of us still today turn to our snowshoes to get us into the backcountry. Indeed, despite all the advances in technology we've witnessed in the past number of decades, the snowshoe continues to stay relevant in a world losing touch with its wild roots.
The basic design of real snowshoes has changed very little over the centuries and other than the utilization of modern materials and contemporary binding systems the shapes and architecture that excelled in the wildest reaches of the North long ago still form the basis for the best snowshoes for backcountry travel and exploration today.
But note the emphasis on real above.
Peruse the website of almost any snowshoe manufacturer or outdoor retailer and you'll find a vast number of models whose appearance are a far cry from the snowshoes of yesteryear. In fact, one could make the argument that the entire idea of "snowshoeing" today has been completely bastardized from what it once was: a method of travel through terrain rarely if ever trampled by the steps of other humans, a means to cover ground otherwise impossible to traverse without the flotation and traction provided by these indispensable tools.
Instead, lycra and spandex wearing urbanites "snowshoeing" on groomed, hardpacked trails are driving demand for models that are short, narrow and couldn't float a toddler in more than a few inches of snow let alone a grown man or woman wearing a pack in true snowshoe worthy terrain. We're all for people getting out and being active, especially in the winter as there are few things as invigorating as exercising in the outdoors with the bite of cold air stinging the lungs. But no reasonable person can call that snowshoeing.
Yes, despite all the models available to the modern hunter there are only a few that actually meet the demands of serious backcountry travel and if we include the requirements of mountain travel in the equation the options become even more limited.
To make our list a snowshoe must satisfy three primary conditions:
1) Flotation and traction are paramount. In the mountains, accumulation of feet not inches is possible so the shape and design of the snowshoes must place an emphasis on flotation and the traction system must be able to handle everything from powder to hard crust to ice. This versatility is relatively rare with modern snowshoes.
2) Maximum weight rating at or above 220 lbs. This could be considered 1B really as weight rating and flotation are inextricably linked, however we separated this condition due to the fact that for the mountain hunter in particular your snowshoes must accommodate both your weight and the additional weight of a pack and (ideally) meat or hide.
3) Maneuverability and packability are essential but not at the cost of flotation. No different than a lightweight gun you can't handle the recoil from, there's no benefit to an ultralight set of snowshoes that won't provide the flotation or traction you require. The optimal size will depend on the area you call home or plan to hunt as average snowfall will vary from West to East and North to South. To determine the best models relative to this condition we used three specs from the manufacturers: weight of the snowshoes, length of the snowshoes, and of course flotation/max weight rating.
With these requirements in mind, only four models make the list. And remember, there is no one right answer here. You will need to select your specific model based on how you prioritize the conditions we listed above and that will ultimately boil down to the terrain and climate you'll be using them in.
Arctic Trekker Snowshoes by IRL Supplies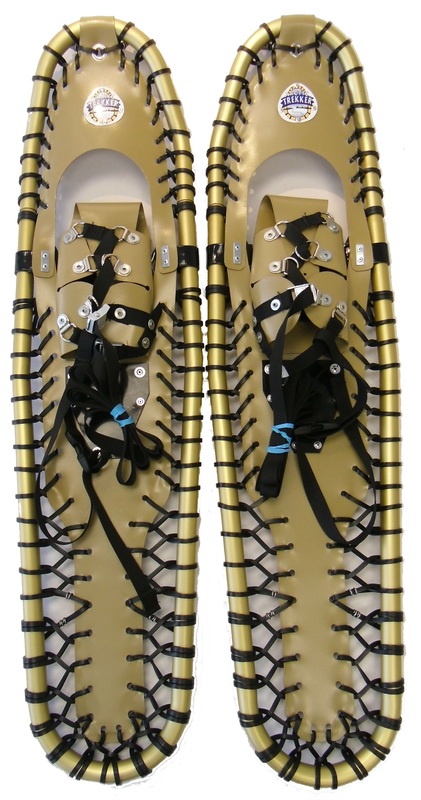 Based on the once famous Sherpa snowshoes, this model is trusted by those in forestry, geology, mining, oil and gas, and units within the military. In short, people whose lives depend on their gear in the toughest conditions imaginable. A classic, no frills design that blends timeless snowshoe construction with modern but rugged materials, these snowshoes are built to last. For those that truly put their snowshoes to work throughout the winter be that trapping, chasing cats with hounds or packing into an area to do some predator management, this is the model you can depend to get you there and back and for years to come.
Weight per pair: 3.3 lbs (avg)
Available Sizes: 30″, 34″, 37″
Weight rating: 250 lbs+
www.irlsupplies.com
MSR Lightning Ascent
MSR is a brand many of us count for a variety of our backcountry equipment and their snowshoes do not disappoint with two models making the cut. The Lightning Ascent has been around for a few years and MSR always seems to be able to find ways to improve their already well designed equipment year over year. One of the most rugged and aggressive designs available and in a package that is more than packable, you cannot go wrong with a MSR product. The "360 degree traction frames" of the Lightning Ascent provide the most secure traction on our list. With the MER models you have the added benefit of being able to add the optional 5″ tails to increase your flotation/weight rating substantially. This adds significant versatility to their line-up allowing you to easily pack the 25″ model for the bulk of your pursuits but add the tails if you get caught in a big snowfall.
Weight per pair: 3.9 lbs – 4.4 lbs
Available Sizes: 25″, 30″
Weight rating: 220 lbs – 280 lbs (without optional tails)
www.cascadedesigns.com
MSR Revo Ascent
MSR's second option that made our list is the new Revo Ascent, another very rugged and aggressive platform for the discerning backcountry traveler. Again, you have the option of adding the 5″ tails to increase the weight/flotation rating but one of the appealing attributes of this shoe is the reinforced nose designed to withstand kickstepping in steep terrain. If you don't know what kickstepping is then you don't need this model but for those that tend to find themselves on pitches even hardcore skiiers would think twice about, this is the model for you. The packability and versatility of this model combined with a fairly aggressive traction profile makes this an ideal pick for steep terrain where traversing and kickstepping are a given.
Weight per pair: 4.3 lbs
Available Sizes: 25″
Weight rating: 220 lbs (without tails) – 280 lbs (with tails)
www.cascadedesigns.com
Tubbs Mountaineer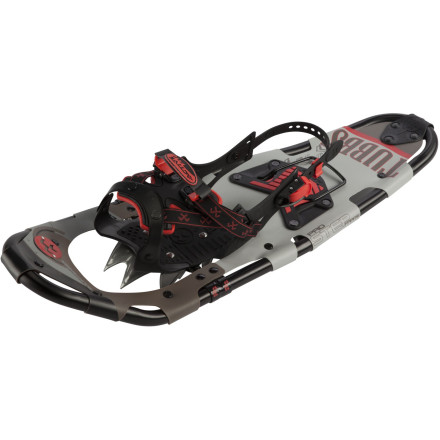 The only model that makes the cut from Tubbs and the heaviest model that made our list, but there's no disputing it's weight rating in the 36″ model (300 lbs) and more importantly it's maneuverability/packability given it's offered in a 25″ model. The "optimal" weight rating on the 25″ model is only 200 lbs but that can likely be pushed to 220 lbs as a max rating so it just makes our cut. If you're on the lighter or shorter side of body size or will be using your snowshoes in regions where the typical snowfall is not overly heavy this classically shaped snowshoe has moderately aggressive crampons for climbing and would be a nice packable option in the 25″ model.
Weight per pair: 5.3 lbs – 5.8 lbs
Available Sizes: 25″, 30″, 36″
Weight rating: *200 lbs – 300 lbs
*Tubbs uses "optimal load" ratings not maximums so we allowed the 200 lb rated 25″ shoe onto the list given it can likely be pushed to 220 lbs+
www.tubbssnowshoes.com